South Yorkshire Police has defended its handling of tree protests in Sheffield after an ex-council leader raised concerns about its approach.
Liberal Democrat peer Lord Scriven wrote to the chief constable querying the force's neutrality after a large police presence on Abbeydale Park Rise.
He asked if the removal of "one tree" on Monday required the attendance of 33 officers and 20 security staff.
South Yorkshire Police said its approach was "fair and even-handed".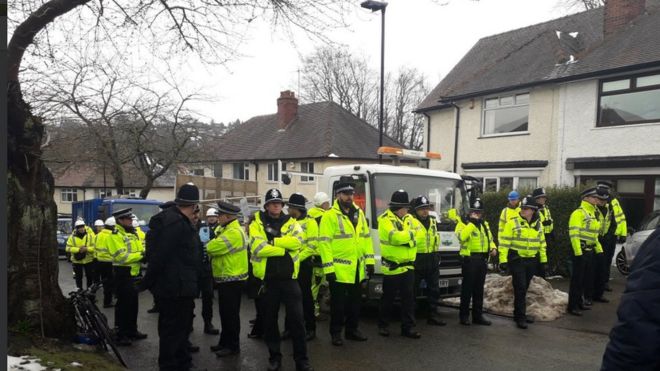 More on this story and others in South Yorkshire
In the letter to chief constable Stephen Watson, sent on Tuesday, Lord Scriven described a "very worrying and escalating use of police at the felling of trees in Sheffield".
He said he was "distressed" by footage of policing on social media and asked a list of questions, including several connected to a policy where campaigners can be physically removed if they enter a "safety zone".
'Change our approach'
Speaking to BBC Radio Sheffield, Assistant Chief Constable David Hartley said: "In terms of making sure that we're proportionate, fair and even-handed hasn't changed, the policing style and the numbers has changed.
"We've seen the move from largely peaceful protest turn into some disorder, so we had to change our approach."
Police arrested a 38-year-old man on suspicion of assault during the protest at Abbeydale Park Rise, in the Dore area of the city, and reported numerous people for summons.
The tree felling is part of Sheffield City Council's £2bn Streets Ahead project, aimed at improving roads and footpaths in the city. About 5,500 trees have been cut down since 2012.
The authority, which is planting new trees after removing existing ones, insists those earmarked for felling are either "dangerous, dead, diseased, dying, damaging or discriminatory".
Campaigners argue many of the trees classed by the council as "damaging" or "discriminatory" are healthy specimens which should not be cut down, saying amendments to surrounding pavements and roads should be made instead.
Lord Scriven, who was leader of Sheffield City Council between 2008 and 2011, said he would raise the issue with the Independent Office for Police Conduct and mention it in Parliament if the force could not prove its tactics were proportionate.
Dr Alan Billings, South Yorkshire Police and Crime Commissioner, has ordered an independent report to assess the policing of tree felling incidents.
"My view remains that this is not, or should not be, a dispute with the police, it is a political matter between Sheffield City Council and some of its residents," he said.